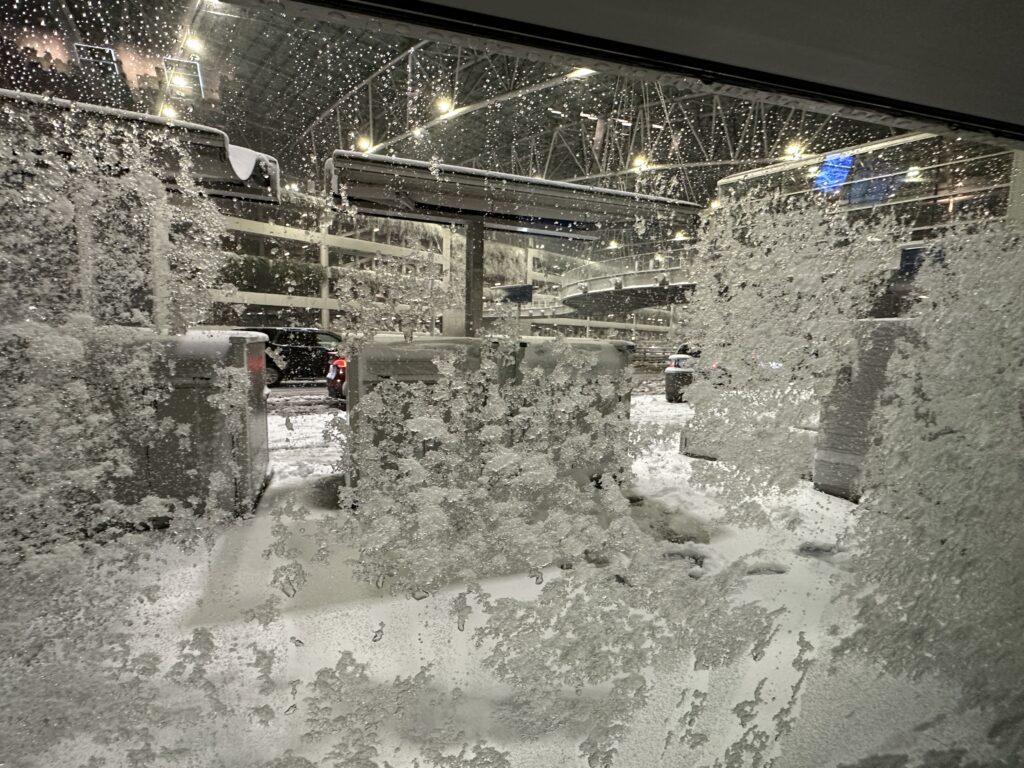 We tried to get out of Portland to start our trip to Ireland. We were supposed to leave on a Wednesday but didn't get out until Sunday. We haven't had a storm like this since 1946 in the Portland, Oregon area. Chael and I had our flight cancelled 2 nights in a row. This is a photo from where we slept. Because we had checked bags, we were told to move from the gate, where our plane was sitting, to pick up at baggage claim, or else they'd charge us for storing it. Those that only had carryon were allowed to stay on the warm part of the airport. Delta couldn't help the weather situation, but they didn't offer any concessions. There was no food or beverages or heat on the check-in side. The gate side had places to you could buy food. Hundreds of people were stranded. No buses, cars, taxis, Ubers, trains, etc. were running. No one could come get us either. We were forced to sleep on the cold floor in the cold part of the airport. The only people traveling were the ambulances. We had at least 3 show up to help people in distress. I contacted my hotel and Travelocity about the issue.
The next morning, we had to wait until 6 hours before our plane could leave to check in our bags. We were already there, tired as all get out. We waited until 10 a.m. to check our bags back and in and to go through TSA so we could get something to eat. We did so. I walked around to get myself warm after freezing my butt off the night before. We headed to the gate. We discovered that no de-icing was done. They didn't get to de-icing the night before either. That's something that should have been scheduled. The weather was clearer, and the visibility was much better. We sat waiting for the flight crew to show up. Still no de-icing. Our luggage wasn't even loaded when we were supposed to board. Finally, the flight crew showed up but was late due to the train. Yaaaaay! (sarcasm). We still clapped. Then they boarded us. The captain explained they have to load the luggage. Then he explained they can't de-ice until the luggage was loaded. An hour and a half later they started de-icing. Then they tried to push the plane back from the gate and it wouldn't budge. The wheels were frozen to the tarmac. Then, after almost 4 hours sitting on the plane, they cancelled the flight. I was furious. EPIC fail. No flight was rescheduled by Delta. I'd have to make other arrangements.
After deboarding the plane, I called Travelocity to cancel my hotel itinerary. I had to since I didn't know if I was going to Ireland at all. I was put on hold until a person answered. I then cancelled my hotels. I was able to get my money back on most of the hotels except the first one, Handel's Hotel. I didn't know that then, but that's what happened even after I paid for insurance on it through Travel On. Big waste of money. I am out 600.00 from that ordeal. Not cool. But at this point I didn't know this…that came later. Then Chael called Ivan, my son, who picked us up at the airport. On our way home, we noticed hundreds of cars abandoned on the freeway. I mean, it was eerie. I am grateful that my son was so willing to get us. We got home around 10:15 p.m.
The next morning, I get a call from Handel's Hotel asking me where I was. I told them of the situation. I told them I was stuck in Portland and didn't know when or if I was going to make it to Ireland. I also told them that Travelocity was to have cancelled that arrangement, but apparently, they didn't. So, I filed a claim using the insurance that I purchased. Turns out they don't cover weather, which is odd since it was one of the categories to choose from when filing a claim. Anyway, I wrote letters to everyone involved…Delta, Travelocity, Travel-On, the Insurance Companies and to Handel's Hotel. I don't know if the Universe wanted me to go or not, but I had spent months planning for this. I had a horrible pit in my stomach.
The next day, I felt better after getting some sleep. I made arrangements to fly out of PDX to Dublin on Sunday. I tried to do it earlier, but because there were 2 cancellations, there were more of us trying to fly to our destinations. Also, I had to arrange for a ride. The weather was clearer by then. Chael made arrangements at other hotels, and we took the Cork visit out of our itinerary. We only had 8 nights to do this trip. Ivan had points to stay at our first hotel, so we got a deal. Our trip was in sight. We were going to do this. And once we did, the trip was great. I will write more on that next blog post.